Physician groups eye mergers but blindsided by legal fights – amednews.com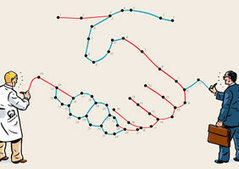 Declining payments and increasing financial pressures have led more physicians to become employees of large medical groups and hospitals. At the same time, the Affordable Care Act is prompting smaller practices to consolidate as a way to more easily participate in new health system delivery models such as accountable care organizations.
But as physicians attempt to escape administrative burdens and financial stress, they are encountering another hurdle­ — legal disputes brought about by mergers.
See on www.ama-assn.org